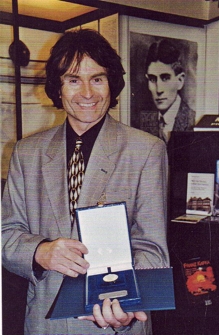 One of One and One again - Confusing Diffuser

Nobody Everywhere - Pellucid Annulment



He carries a famous name of his Bohemian ancestry: Alfred Kubin was a prominent Austria-Hungarian painter and illustrator of the beginning of twentieth century and Otakar Kubin (Othon Coubine), a Czech-Moravian artist who achieved a great fame in France. Especially Alfred Kubin's style has partial impact in Daniel's drawing.

Also some importance is Daniel's theological and philosophical background. He earned Master's in Theology and PhD in Philosophy (Jewish Mysticism, Kabbalah) from Charles University of Prague. Therefore mysticism and esoterism generally play an important role in Daniel's artistic expression.

In May 2004, Daniel Stein-Kubin was nominated and then awarded the prestigious European Medal of Franz Kafka. This award is given annualy to individuals for their creative artistic activity, regardless of national cultures. Kafka's writings have had a tremendous impact on the philosophical concepts and style of Kubin's paintings.